When J & N Tanning Salon approached Destination Design for their new salon design it seemed like a great opportunity to bring the owners, Norma and Jon, even closer to the needs of their clients. This was Norma's second Tanning Salon, so with more than double the space, and lots of ideas, we sat down to discuss all Norma knew about her business and her clients from her years of experience.
The key themes we discovered from our in-depth discussions and from in-salon observations are that people value their privacy, but they also want to feel part of a club where they feel a sense of belonging and can experience social interaction. Their time is precious, but people need to take a moment for themselves to feel healthy and pampered. For privacy, we made sure that the rooms were as soundproof as possible, that the hallway to the rooms was separate from the main area (in space as well as design) and that the powder rooms were easily accessible for after tan touch-ups.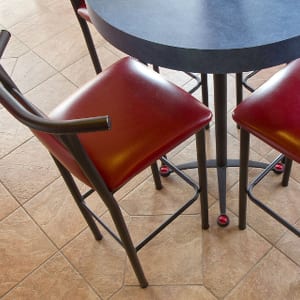 "Wait time" just became "me time"
Getting in and out of the tanning rooms quickly is good for clients' schedules, as well as the owner's bottom line. The tanning rooms are sparse, but with lots of space for seating, with hooks for clothes, purses and shoes. The after-tanning primping can be done in small areas with mirrors, lotions, and cool wash cloths, outside of the rooms, freeing up the room for the next client.
Waiting for a tanning booth to open up can be a real turn-off for clients, so we beefed up scheduling and turned the "wait" time into "me" time. Norma had always wanted to add a healthy smoothy and coffee bar, which fit in well for the early clients, the walk-ins who may have to wait, and for the many "fans" of J&N who have a few minutes to chat with Norma and Jon. We added a seated bar area, and cafe tables by the windows for better viewing of the pedestrian traffic. There is also a small retail area full of trendy jewelry, and beach wear that can be tried on in the tanning rooms.
Feeling cool & healthy
After spending fifteen minutes under hot lamps, clients need an atmosphere that encourages a feeling of being cool and healthy. We achieved this with dark reds and yellows in the tanning rooms and main walls, with cool blue countertops. In contrast we used darker, blue lighting in the "hot" zones.
With water as an important element in the design, Norma wanted to have something special that would set her salon apart from the competition. So we created a glass tile mosaic in the entry in cool shades of blue to mimic ocean waves. The shimmer as you walk past the wall is too cool to forget.
Norma and Jon's Tanning Salon space perfectly reflects their successful business philosophy: client's needs and wants are first on the priority list.